September 23, 2015 - Scientists Play Kickball!
May 2, 2015 - Killing it at the Willi Whammer Half Marathon!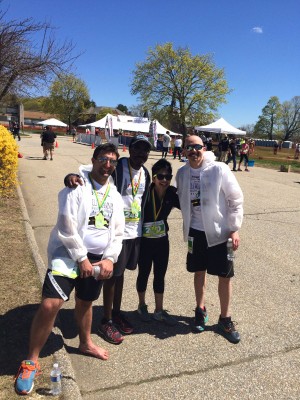 May 2, 2015 - GO:MCB members volunteered their time to judge the Connecticut Invention Convention where students grade K-8 presented their inventions.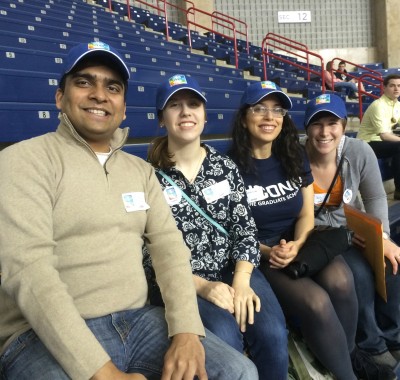 April 16, 2015 - Scientists Go Skating!
March 26, 2015 - Stefano Bertuzzi, Executive Director of The American Society for Cell Biology came to Uconn to give an interactive career seminar titled "Where will a PhD in Science take You?" to help graduate students learn about all the possible careers out there! Pictured left to right, Tony Patelunas, Pariksheet Nanda, Michael Lemieux, Sally Chamberland, Stefano Bertuzzi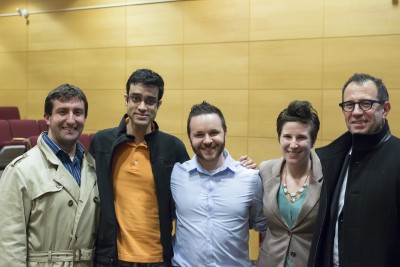 February 28, 2015 - Three of our members volunteered at the Connecticut Middle School Science Bowl held at UConn.  Teams of four competed by answering questions on all different science topics and the top teams will travel to the National Science Bowl in May.  Left to Right, volunteers acted as Moderator (Sally Chamberland), Timekeeper (Andrea Suria), and Scorekeeper (Meghan Monroy).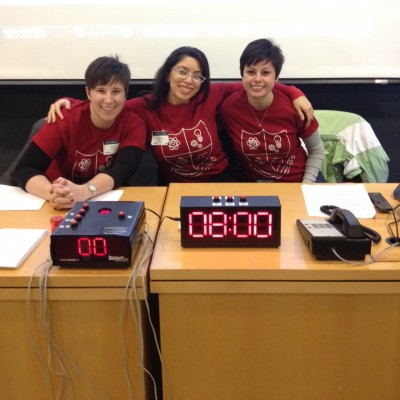 February 5, 2015 - Ten of our members travelled to Park City Prep Charter School in Bridgeport CT to judge their 7th and 8th grade science fair! The judge consisted of two rounds and the top five winners chosen move onto the Connecticut State Science Fair in March.  Pictured with our judging badges (top row, left to right: Jeanne Whalen, Michael Stephens, Kristen Dostie, Nathan Sanford, Shannon Soucy, Meghan Monroy, Sarah McAnulty, and Andrea Suria. Bottom row, left to right: Sharon Pavanacherry and Sally Chamberland.)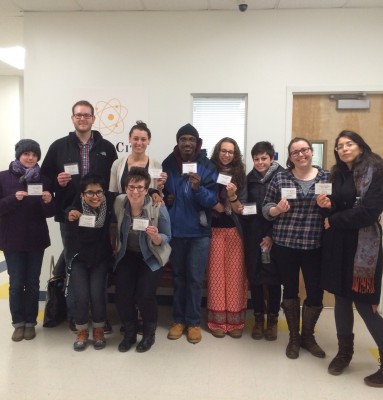 December 16, 2014 - Members of GO:MCB went back to the East Hartford YMCA, this time to teach preschool aged kids about why it rains and how to paint with food coloring and shaving cream! Pictured, left to right, David Lei, Meghan Monroy, Tyler Daman
November 3, 2014 - Members of GO:MCB went to the East Hartford YMCA to teach an after school group of young children about acids, bases, and a classic science experiment, the vinegar and baking soda volcano but with a fun Halloween twist! 
October 30, 2014 - The ER-mitochondria Encounter Structure (ERMES) complex is of vital importance, it links the ER and mitochondria allowing lipid transport and has a number of other functions.  Nathan Sanford who works in Dr. Victoria Robinson's lab and collaborates with  Dr. Nathan Alder, researches Mdm12, one of the four proteins in the ERMES complex.  At the weekly MCB graduate seminar Nathan Sanford presents his working ERMES model to the department.  Pictured, members of Dr. Victoria Robinson's lab and Dr. Nathan Alder's lab.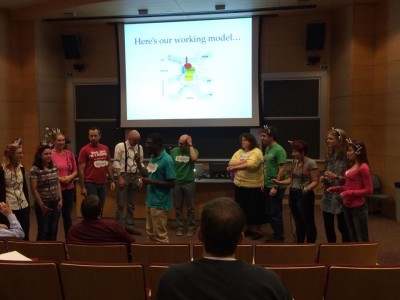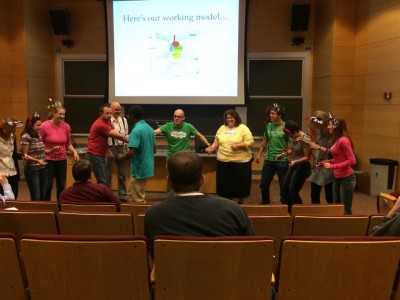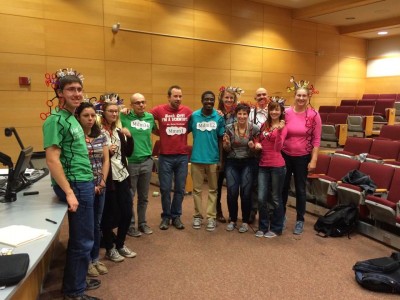 August 6, 2014 - Socializing after the 2014 MCB departmental retreat